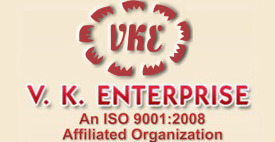 ADNS Metal Craft
(A Sister Concern)
Welcome to V. K. Enterprise
V.K. Enterprises was established in the year 1986 and was a pioneer in Manufacturing Auto parts products like Engine Mountings, Oil Seals etc. Later we expanded our boundaries and entered into the new era of Fabrication Work, Heavy Duty Sheet Metal Work, Light Duty Sheet Metal Work, A.C Pipe Line Fitting, Cooling Tower, DG Exhaust Pipeline, Construction Work and many more.
Today we are one of the best known in our work discipline. We have potential and skilled labour which helps us to deliver the quality of work in a given timeframe which establishes a better grounds with our clients. We have a Team experts with 8 Supervisors, 30 Skilled Employees and 32 Un-Skilled Employees who work in our company which is constructed in an area of approximately 250 square meters.
Our motto is "To Deliver", "To Render", "To Describe" and "To Maintain" the Quality as well as to produce as per the requirement. So finally...
" BEAT THE PROMISE "
Some of Backbone Machinery we have..