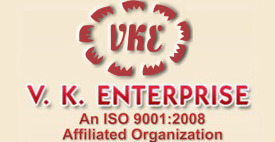 ADNS Metal Craft
(A Sister Concern)
Our Products
Diesel Generator (DG) Exhaust Kit and Pipe
Our specially designed and engineered Diesel generator exhaust kit will save you time and money. Many Diesel generators are installed in remote locations. A proper installation usually requires piping the exhaust out of an existing structure. With this kit you have everything you need to do a professional job quickly and easily without the hassle and expense of rounding up all the pieces and parts. The stainless steel braided flex connector and the critical grade muffler alone are worth the price of the kit. Now throw in the specially designed glass pack and all the necessary peaces and parts and it is easy to see the value and usefulness of this kit.
Comes complete with everything seen below: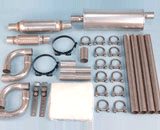 Below is a typical example of a professional Diesel generator exhaust kit installation. Follow local, state code when installing. Only qualified individuals should attempt to install a Diesel generator.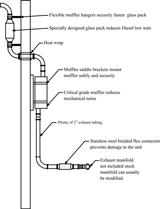 Exhaust Pipe photographs

Louver Boxes
A Louver (American English) or Louvre (British English), from the French l'ouvert; "the open one") is a window, blind or shutter with horizontal or, less often, vertical slats, that are angled to admit light and air, but to keep out rain, direct sunshine, and noise. The angle of the slats may be adjustable, usual in blinds and windows, or fixed.
We are specialized in developing Louver Boxes for control panel which secure them from weather conditions like Rain and Extreme Sun etc.